Principal's Newsletter Oct 3
Posted: | Updated:
Falcon Families,
TOPS Vision: We are creating a school that empowers students to be active participants, leaders, learners, and contributors to social justice.
We did it! We finished the first month of school. A huge shout out to all our parents, family members, grandparents, aunts and uncles, cousins, etc… for getting our TOPS students to and from school every day. I wish I had better news about the busing situation. Parents, please use Boylston in the morning for drop-off of students in grades 2-8. Louisa gets very busy and a little congested in both the morning and afternoon. We will have TOPS staff in orange and yellow vests that can help get your students to the correct entrance for school.
Rain is in the forecast for this week. Please make sure your student is prepared for the weather. We will be going outside in the rain!
In honor of National LatinX Heritage month and Deaf Awareness month, I am highlighting Dr. Robert Davila.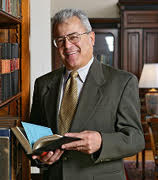 "Having never before spoken publicly about his life experience as a deaf Latino, Davila described his difficult beginnings working in the plum orchards of California's Central Valley. At age ten he contracted spinal meningitis, which eventually caused him to become deaf. He attended the California School for the Deaf, where he learned American Sign Language (ASL) and also met the added challenge of learning how to read, write, and speak in English. Davila recalled with poignancy the difficult language divide and how it complicated communication with his family."
Please make sure to read the teachers emails sent on Friday.
Upcoming Dates:
Smarter Balanced Assessment:
October 4-7th Grades 5 & 8 this week. English Language Arts (see attached letter)
October SEL Assembly.
Kindness: the choice to act with words, gifts, or actions to bring appreciation, positivity, and encouragement to others and yourself.
What does Kindness look like in our home? What does it look like in our neighborhood? What does Kindness look like in our extended family, our faith or spiritual practices, our community centers, our sports teams, etc.?
Why is it important to show Kindness to people who aren't kind to you?
What acts of Kindness have others shown you lately and how did you respond? How did it make you feel? How does random acts of Kindness help you grow?
Early Release:
Wednesday, October 6th, School out at 2:10 pm
Curriculum Night
Wednesday, October 6th (ZOOM, 6pm-8:15 pm, more detailed schedule below)
No School for Students it is a Staff Professional Development Day,
Picture Re-take Day:
Important to Read
Curriculum Night
A comprehensive schedule with links will be sent on Wednesday morning to all families via email and Talking Points.
| Time | Agenda |
| --- | --- |
| 6:00–6:10 pm | Opening Welcome on Schwentor's ZOOM Room |
| 6:15–6:40 pm | Elementary Session 1 |
| 6:45–7:10 pm | Elementary Session 2 |
| 7:15–7:40 pm | Middle School Session 1 |
| 7:45–8:10 pm | Middle School Session 2 |
Curriculum night schedule
TOPS SWAG Online Store
Store is live and set to close October 20th with delivery 3 weeks after close date.
Pick Up/Early Dismissal Procedure
call 206-252-3510, and/or (preferred method) email teacher and tops.attendance@seattleschools.org inform who and when is pick up
arrive at the front door on Franklin Ave.
ring door bell, you will not be let in.
someone will assist you, let them know who you are picking up
someone will come to you to sign your student out, please have ID ready
wait for your student to come to you outside of the doors
Absent procedure
Call 206-252-3510, and/or (preferred method) email teacher and tops.attendance@seattleschools.org
who your student is
how long is your student out
and why?
Reminder: Seattle School District policy, in keeping with updated protocols from Seattle King County Public Health and Washington Department of Health, requires that any student or staff member who has one or more symptoms that could possibly indicate COVID-19 infection, must provide evidence of a negative COVID test (performed after symptom onset), before returning to school. You may send us a PDF or JPEG or screenshot of results via e-mail (preferred) or give your student a printout of their negative results for them to bring back to the main office on the day they return to school.
Please email the results to tops.attendance@seattleschools.org and mhsherling@seattleschools.org . 
Source Password Change for Families
For increased security, the number of characters required for your Source password is changing from 8 to 12 which will require you to change your password. This change is only for parents and guardians; students will not need to change their password.
What I am reading
Fiction:

Empire of the Vampire by Jay Kristoff. A new series by this prolific science fiction author. "Gabriel de Leon is a silversaint: a member of a holy brotherhood dedicated to defending realm and church from the creatures of the night." This is an adult fiction novel. Not recommended for middle school or younger.
Black Boy Joy edited by Kwame Mbalia. "From seventeen acclaimed Black male and nonbinary authors comes a vibrant collection of stories, comics, and poems about the power of joy and the wonders of Black boyhood."
NonFiction:

Caste by Isabel Wilkerson and Decoding Boys by Cara Natterson, MD
Videos of the week
Joke of the week
There's a fine line between a numerator and a denominator. (…Only a fraction of people will get this clean joke.)
Stay healthy, be safe, mask up!
Amy