View your child's artwork
Posted on: March 3, 2023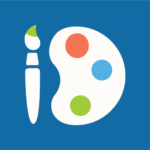 Message from Art Teacher Ms. Amanda
Greetings TOPS families! I am the new art teacher at TOPS K-8. It has been so fun getting to know your kids this year! I wanted to make sure you were all aware of a portfolio platform I use called Artsonia.
You can download the Artsonia app to follow your child's online portfolio. This is a great way to connect with what your students are learning in art class and see what they are making. You can even leave comments and encouragement for your young artists and order keepsakes featuring your favorite artwork!
Please email your grade band rep for the access code.